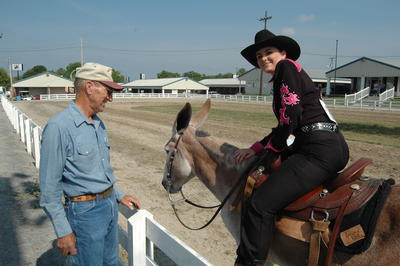 Terry Bates,of Rock Point, Mo., left, gives some pointers to his granddaughter, Megan Bates, before she shows his mammoth donkey jenny, "Scooter's Superstar at The Great Celebration Mule and Donkey Show.
(T-G Photo by Mary Reeves)
[Order this photo]
Out West, they call them "mountain canaries" because they surely love to sing.
Of course, a donkey's "song" may not fall melodically on a human's ears, but there were plenty of concerts being given at the Celebration grounds last weekend during the Great Celebration Mule and Donkey Show. Competitors came from across the nation and across the county. They brought huge, Belgian-cross mules and tiny miniature donkeys, and just about anything long-eared that fell in between.
One mammoth donkey, Scooter's Superstar, was bigger than some of the smaller mules on the site.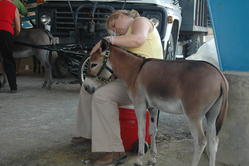 Jocelyn Schilling of Hayden, Ala., cuddles with her 1-year-old miniature donkey Sundance before his class at The Great Celebration Mule and Donkey Show held on the Celebration grounds last weekend.
(T-G Photo by Mary Reeves)
[Click to enlarge]
[Order this photo]
So what is it about these long-eared, bottlebrush-tailed, notoriously-stubborn animals that creates such a fan base?
Part of the appeal is economic.
"I used to have quarter horses," said Terry Bates of Rock Point, Mo., "But they got out of my price range and I couldn't compete with them."
Bates got into donkeys -- the biggest of the breed, and now his granddaughter and others show them for him. But even though he found himself raising donkeys instead of quarter horses because of financial limitations, he soon decided he preferred the long-eared cousins.
"Donkeys are better. Easier to work with and good for amateurs," he said, reaching out to pet Scooter's Superstar. "This donkey is a small saddle type, that's what I'm trying to raise," he said.
"It takes a lot more patience," said Tabitha Holland of Tulsa, Okla., who rides and trains for Bates. "But I don't think donkeys and mules get enough credit for everything they can do."
Lori Puckett, formerly of Shelbyville, looks at the Mule Show as a homecoming of sort, where she gets to reconnect with friends and family after moving to Cookeville. She shows horses, too, but there are aspects to showing mules she prefers.
"There are more showmanship classes," she said. "More variety."
The drawback, she said, is that the mules tend to be a little more, well, stubborn.
"If a horse is afraid of something, you can persuade them," she said. "A mule -- if it's afraid of something, there's not much you can do to convince him."
Her own mule, Oklahoma Sweetpea, didn't take much convincing to bring home a third place ribbon in Amateur Western Pleasure.
They aren't the only ones who enjoy the company of mules and donkeys.
"The latest installment of this midsummer classic on the Celebration Grounds can be declared a success by almost all measures," said Jimmy Burton, area marketing manager for the Calsonic Arena." Entries this year numbered 1,592 with approximately 475 different animals competing."
As one of the largest mule and donkey shows in the country and second largest in the event's history, The Great Celebration Mule & Donkey Show has grown to the point it annually receives entries from nearly half the states and several from foreign countries.
"We're very happy with our entry numbers," said Celebration CEO Dr. Doyle Meadows. "Our entry numbers were up nearly thirty percent over last year, attendance took a positive turn and everyone seems to enjoy the show. With the economy as it is, we are thankful for the support we received," he stated.
In addition to a full slate of classes, exhibitors were treated to a cookout with grilled chicken and all the trimmings on the night before the show as well as the annual Watermelon Feast and Tennessee Barbecue Dinner.
Meadows and others were very happy with the quality of this year's show.
"With all of the national and world shows we were hosting we knew that the quality of our entries would be one of the best in our shows history," said Margaret Eakin, Celebration entry office manager.
"This is one of the best organized shows in the country," said Mule Show announcer Kathy Herrin from Canon City, Colo. "The facility has everything you could want for a show and the staff is extremely professional about how they go about their business. It's just perfect."
"The gaited mule classes are the very best in the country," added Herrin. "But, you would expect to see that at a place as highly-regarded as this."
"The highest expectations we have to meet are those we set for ourselves," Meadows continued. People come to the Celebration Grounds expecting a world-class event and that's what we strive to give them. Hearing positive comments from the exhibitors and fans is very pleasing and gives us an indication that we're moving in the right direction with this event."
Vendor space in the "Trading Post" area was sold out and vendors expressed satisfaction with good sales throughout the show. Vendors ranged from harness and tack purveyors to t-shirt and iron art booths.
While the 18th Annual Great Celebration Mule and Donkey Show will go in the books as a solid success, don't look for everything to stay status quo.
"We are always looking for ways to make our show better," said Meadows. "We can guarantee exhibitors and fans that our efforts will be geared toward making the Great Celebration Mule and Donkey Show the very best show of its kind in the entire country."